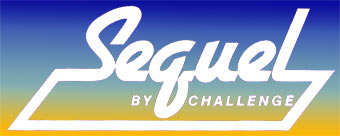 SPECIFICATIONS -
Length - 4930mm / Beam - 580mm / Weight 26kg / Cockpit Length 790mm - Width 425mm
MANUFACTURE -
The Challenge Sequel is moulded using the latest polyethylene resins, allowing us to produce lighter and stronger kayaks.

DESIGN / PERFORMANCE -
The Sequel encompasses features of the historical Greenland kayak, enhanced by our previous design experience. The Sequel has above average hull speed and a low drag ratio, enabling it to maintain a high cruising speed over long periods of time.

STOWAGE -
The sequel has two stowage compartments, access to which is through deck hatches. Rear (390mm x 275mm) Front (260mm x 230mm). Hatch covers comprise of a neoprene under cover and a polyethylene outer cover, both of which are attached to the kayak to avoid accidental loss.
INTERNAL AND EXTERNAL FITTINGS -
RUDDER - The rudder is unique and is designed to keep the blade down in the water while paddling, but allowing it to kick up if it hits an object in the water or when beaching the kayak. The footbrace and rudder bar are easily adjustable to attain a customised fit while seated in the kayak.

BULKHEADS - The bulkheads are a 2 part system that has proven extremely reliable in our previous models. Both seat support and seat back have been ergonomically designed to give full support.
Further Information -
This email address is being protected from spambots. You need JavaScript enabled to view it.